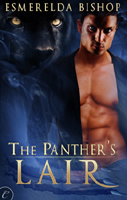 Sydney Chase has had her fill of relationships ~ she just winds up getting her heart broken every time she tries, so this time she's trying something different ~ after all, a woman has NEEDS! So she sets out for a one night stand ~ and The Panther's Lair sounds like the perfect place for her to find sex with no strings attached.
What she finds is Raimond Decoudreau, the club owner, and sex on a stick ~ and he looks like the perfect canidate for her one night stand! The sex is the best of her life ~ but she's promised herself no strings, so when Raimond offers to take her home & asks for her number, she tells a few white lies.......not knowing that her destiny is already tied to Raimond, and that a threat to her will only bring them further together....
This was a short story ~ but it was filled with smokin' hawt sex, a sexy shifter, and a reasonable tale of falling in love quickly ~ I enjoyed it, gobbled it up in one setting, and will be looking for more of Ms. Bishops books in the future!