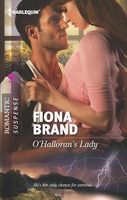 Mass Market Paperback
Harlequin
Silhouette Intimate Moments ~ 1773
ISBN:

0373278039
ISBN13:

9780373278039
"It's been nine years. I still want you."
World-famous writer Jenna Whitmore has her share of fans. She just never thought one would be out for blood. There's only one man she can trust with her life, VIP security expert Marc O'Halloran. He left her years ago without a word, so how can she ask him for help now?

Marc had failed to save his wife and child once. There's no way he's letting anything happen to Jenna. Whatever their relationship had been, or is destined to become again, he's keeping it all about maintaining Jenna's safety. Marc will protect the woman who's given him something to live-and die-for.
Jenna Whitmore's newest book has just hit the market ~ on the anniversary of her cousin's death. It's been 6 yrs since her cousin's death, and Jenna had used a few small details from her life in her current work ~ but nothing that would make her the target of a killer...or would it?
Marc O'Halloran has never stopped searching for his wife & infant son's killer ~ he might have left the police force, but his job as 1/2 owner of a security agency only gave him more ability to look into the cold case ~ and on the anniversary of their deaths, he was determined to find answers this year. He never thought he'd find clues in the form of Jenna Whitmore ~ a woman he'd fallen hard for 9 years earlier, but wound up dating & marrying her cousin after she'd dumped him because she couldn't handle his being a cop. He'd let her go ~ but he'd never forgotten her. And now Marc is realizing that Jenna may in jeopardy ~ that the same man who'd killed his family might be after Jenna this time. He was determined to keep her safe...and close.
It was such thrill to me when Fiona Brand started releasing books again ~ and THIS story takes me back to some of my favorite characters from her older SIM days. While this book was good, and she writes a great tall, dark, deadly & fairly silent hero in this one, he's not quite as grabbing as her heroes from her older books ~ and we get to see Gabe, Blade, Carter & others from the SAS team helping Marc out! Secret thrill, that, lol.
I loved that Marc had truly never let go of his feelings for Jenna ~ but out of respect for her and how she felt about men w/ dangerous jobs, he let her go when she chose to. He didn't want to, but he did. Jenna never fell OUT of love w/ Marc, so it was pretty great seeing them hook back up and learning how they'd missed one another's signals the first go around ~ and I liked that there was no resentment, or big rehash of why he'd married her cousin. 9 yrs. is a long time!
I liked it, enjoyed the story ~ but LONG for the LH heroes she used to write!
Maybe she'll get back to that...one can hope! In the mean time, she's an auto buy for me ~ I won't say she's a favorite any longer, but I do enjoy her books and don't want to miss any of them. I'd recommend for sure!