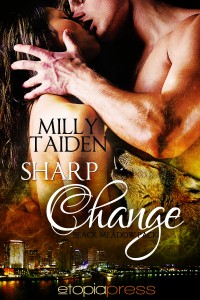 Sharp Change
By Milly Taiden
Black Meadows Pack – Book 1
Genre: Paranormal Erotic Romance
BLURB:
After her sister is bitten by a werewolf, geneticist Sophia Reece begins researching shape-shifters and isolates a gene she calls Furry Beast—FB for short. But in her excitement over her discovery—dancing in the lab is never a good idea—she has a teeny little accident with the samples, one canine, one feline, and winds up landing on the syringes, pointy side up.
Werewolf Chase is head over heels in lust with Sophia. He can't stop thinking about the human's sexy body or how badly he wants to get her naked. But she acts as if he has fleas. So why, all of a sudden, does she stare at him like a wolf in heat? And what smells like cat?
When she experiences her first mating heat, Sophia isn't prepared for the new feelings she's experiencing, and her secret desire for Chase refuses to remain under wraps. For Chase, this is his wildest fantasy come true—to finally get his hands on the curvy, caramel-skinned Latina. But when some serious predators come sniffing around her research, Sophia will have to find out what she's really made of, and Chase will have to decide if he's man—or wolf—enough to make things permanent…
Sophia Reece has only one goal in life right (well, aside from wanting to climb that sexy Alpha Chase, but so far he hasn't noticed she's alive) and that's to help her sister overcome the shifter gene she was given by her mate when he bit a few months back. It helps that Sophia is a brilliant scientist...and that she's isolated the the FB, or furry beast gene of both the canine and feline shifters...it's only a small step for her to be able to help her sister turn back to a full human. Only, on the way to taking her FB samples to her secured safe, she trips and injects herself with minute amounts of BOTH FB samples...but surely it's not enough to do anything...is it?
Scheduled for dinner at her sister's & BIL's, who just happens to be that sexy Alpha Chase's brother, Sophia is totally weirded out by how EVYERYONE she encounters seems to be acting...but especially the men. Geez...and when she gets to her sisters house, and Chase is lounging around in swim trunks? It's FUBAR for a chick who doesn't even realize that she's going into heat...with TWO Alpha female shifters in her...
Chase has wanted Sophia since the day he's seen her, but he's been taking it slow & steady as she wasn't a shifter...so when he smells not one, but TWO shifters in her, and realizes she's in heat, all bets are off. But first he has to understand how this could have happened...and when he realizes what his smart little mate has been up to, and what jeopardy she could have put herself & the whole shifter race into, he wants to...yeah, there's a whole lot he wants to do to her...
This book was great! Cute, funny, and just a fun, sexy read, I enjoyed every min. of it! I actually thought it was the 2nd book in the series and went back to Amazon for more...only to find it's the only one right now, lol. So I can't wait for more in this series! And new shifter series I'd categorize w/ Dana Marie Bell, Sela Carsen, Marie Harte...she's got me!
Milly Taiden was born in the prettiest part of the Caribbean known as the Dominican Republic. She grew up between New York, Florida and Massachusetts. Currently, she resides in New York City with her husband, bossy young son and their little dog Speedy.
She began writing when she learned to put words together and her first book consisted of two homeless dogs living in a park for her second grade English class. She didn't win a prize, but she acquired a love for writing that never went away.
When she's not working full-time, texting with her best friend Heidi in England, chastising her son for pulling the dog's ears, shopping with her sister Jewel or watching scary movies with her husband, she can be found writing on her laptop. She's addicted to shoe shopping, chocolate and Dunkin Donuts coffee.
A major reader when she can get her hands on a good book, she loves reading all Mina Carter, Cynthia Eden, Cynthia Sax among others.