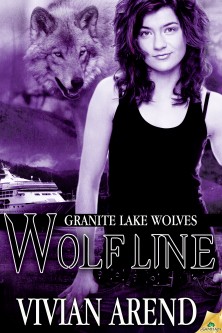 ~~**~~
Publication Date: June 12 2012

Samhain Publishing

Warning: Really? You need to be warned about the hot nookie and sarcasm? Yeah, it's in here. Also colourful cat shifters, lupine royalty, and wild adventures in cabins like you've never seen before.
Reading Arend is like traversing the rainforest: You'll be drenched and basking in the glow. Wolf Line is brimming with adventure, sopping in steam and bursting with life. Arend doesn't overplay her hand delivering humor and romance, making this an entertaining read.
Laid back Jared is just hanging out in Granite Lake w/ some of his pack mates and leaders when he's forced to run from one of his love 'em and leave 'em lovelies families...and finds himself on board a Cruise ship. How convenient that he's mistaken for a fellow pack mate who is supposed to have shown up to work on the ship ~~ great place to hide out for a little while and let the chase die down on the shore. But he really didn't MEAN to go out to sea on the ship...
Keri Smith agreed to trouble shoot for her friend on her first foray as Director of Arctic Wolf Cruise Lines...she had plans of maybe a little wolfie hanky panky, some fun times...but NO plans to meet her mate. So when she smells and recognizes that the new maintenance man Jared is her mate, she's excited and thrilled...and confused. Why isn't he chasing after her? Isn't that how this mate thing worked?
Jared has a few secrets in his life ~ and it takes him a little while to recognize Keri as his mate, but when he does, he's thrilled. But things on the Cruise are going a little crazy...someone is trying to set Jared up as a thief, Jared is trying to hide a huge secret in his back ground, and Keri is just trying to keep up and come to terms with the fact that her mate might not be everything she'd dreamed of.
Wolf Line was a fun, sometimes lol, sexy book. Full of snark, gigles and OMG's!
I wasn't sure about reading about middle of the pack members, no special talents, not an Alpha...but I truly enjoyed the story, and loved that Jared and Keri are happy w/ the people and wolves they are, and their place in the pack. I loved getting to visit w/ the Granite Lake Alpha, even though it was short... There was a little mystery going on, and had me fooled on the whodunit ~
and made me ashamed, lol.
But all in all this was a great read...and totally makes me want to go back to Granite Lake as soon as I can!